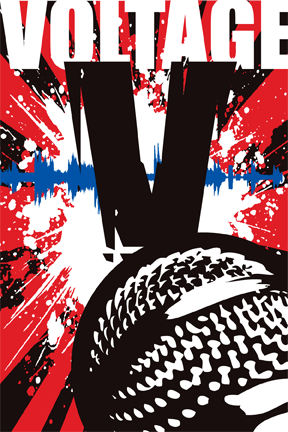 Our Annual search for the illest, coldest, hypest, realest, smoothest, hottest words from Milwaukee teens!
Poetry slam competitions will take place during monthly teen open mic October to February.  Top performers will travel to San Francisco to represent Milwaukee at the  2017 Brave New Voices International Teen Spoken Word Competition & Festival!
Every 3rd Friday
6 – 8:30 pm
JCPAA Arts Studios
Lower Level, Grand Avenue Mall
(Below TJ Maxx)
FREE ADMISSION : ALL AGES
WHAT IS VOLTAGE?
A spoken word competition for teens only, ages 13-19.
WHO CAN ENTER?
Any teenager within the Southeastern Wisconsin area.
WHAT'S AT STAKE?
A position on Milwaukee's 2017 teen poetry team, which will compete at a national contest in Washington DC next summer.
HOW DO I WIN?
Contestants will read, recite or perform two original poems.  A panel of judges will assign scores based on content AND delivery.
ARE THERE ANY RULES?
Yes, just a few:
• All works must have been written by you;
• Costumes, instrumental music and props are not allowed; and
• All pieces cannot be longer than three minutes and 30 seconds.
DO MY POEMS HAVE TO BE MEMORIZIED?
Absolutely not.  However, if you read from paper it's still important that you practice in advance.  The audience will still want to be captivated.
HOW MANY WINNERS?
There will be three qualifying slams: October, December and February.
The 1st, 2nd and 3rd place winners will advance to Grand Slam Finals.
At State, approximately 15 students from greater Milwaukee will compete for the final team spots.
Top five (5) performers from State Finals will earn a spot on the 2017 BNV Team.
OKAY, HOW DO I ENTER?!?
Contestants must sign-in between 6:00 – 6:30 p.m.
There is no cost to enter.